Supernatural Season 8 Episode 13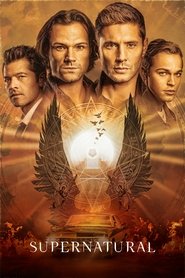 Supernatural Season 8 Episode 13
Sam and Dean investigate the death of Rabbi Bass, who spontaneously combusted. The case becomes ever more confusing when they learn that the Rabbi was researching Nazi Necromancers. Sam and Dean are attacked by a Golem who turns out to belong to the Rabbi's grandson, Aaron. The key to the case lies with the Golem but Aaron doesn't know how to control him, which leaves everyone in danger.
Serie: Supernatural
Director: Philip Sgriccia
Guest Star: Adam Rose, Andy Thompson, Bernhard Forcher, Brad Harder, Don Knodel, Graem Beddoes, Hal Linden, John DeSantis, Kis Yurij, Louis Holz, Nicole Hombrebueno, Oliver Rice, Ryleigh Gillespie
Episode Title: Everybody Hates Hitler
Air Date: 2013-02-06
Year: 2013
Watch Supernatural Season 8 Episode 13 Online Full Episode on Project Free TV. Stream Supernatural Season 8 Episode 13 Online Free in HD-720p.