Supernatural Season 8 Episode 11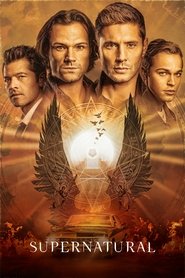 Supernatural Season 8 Episode 11
Sam and Dean investigate the mysterious deaths of two LARPers (Live Action Role Playing) who were playing a game entitled Moondoor. The guys are thrilled to discover the Queen of Moondoor is none other than Charlie. The three learn that a fairy has been commandeered to harm people and the only way to stop her is to find her master.
Serie: Supernatural
Director: Jeannot Szwarc
Guest Star: Andrea Brooks, Don Thompson, Felicia Day, Haig Sutherland, Hank Harris, Larissa Albuquerque, Michael Teigen, Richard Meen, Robert Sidley, Shaughnessy Redden, Theo Wiersma, Tiffany Dupont
Episode Title: LARP and the Real Girl
Air Date: 2013-01-23
Year: 2013
Watch Supernatural Season 8 Episode 11 Online Full Episode on Project Free TV. Stream Supernatural Season 8 Episode 11 Online Free in HD-720p.