Supernatural Season 7 Episode 6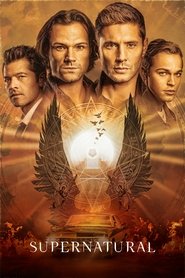 Supernatural Season 7 Episode 6
Sam and Dean are once again on the FBI's "Most Wanted" list when two Leviathans clone the brothers and go on a killing spree. The subject of a nationwide manhunt, Sam and Dean need to drop off the grid so Bobby sends them to Frank Deveraux, a quirky surveillance expert, for help. Meanwhile, Bobby continues to search for a way to kill the Levianthans, or at least slow them down, so the real Winchesters can stop their evil doppelgangers.
Serie: Supernatural
Director: John F. Showalter
Guest Star: Debbie Timuss, James Patrick Stuart, Jason Edward Coleman, Joseph Allan Sutherland, Kevin McNally, Kim Rhodes, Mark Sheppard, Michael Hogan, Morgan David Jones, Ramon Terrell, Sean O. Roberts, Shaun Smyth
Episode Title: Slash Fiction
Air Date: 2011-10-28
Year: 2011
Watch Supernatural Season 7 Episode 6 Online Full Episode on Project Free TV. Stream Supernatural Season 7 Episode 6 Online Free in HD-720p.