Station 19 Season 3 Episode 9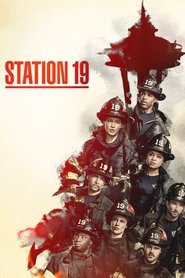 Station 19 Season 3 Episode 9
When an Army veteran threatens to blow up a pawn shop, Sullivan reflects on his time as a Marine to deescalate the situation. Meanwhile, Vic and Dean try to reason with a man battling Alzheimer's disease; and Pruitt takes a stand to honor fallen firefighters.
Serie: Station 19
Director: Janice Cooke
Guest Star: Alex Benjamin, Elayne Taylor, Erica Shaffer, Garrett Morris, Jaidyn Triplett, Jonathan Kehoe, Josh Kelly, Lachlan Buchanan, Marie-Françoise Theodore, Michela Crayton, Pat Healy, Stefania Spampinato
Episode Title: Poor Wandering One
Air Date: 2020-03-19
Year: 2020
Watch Station 19 Season 3 Episode 9 Online Full Episode on Project Free TV. Stream Station 19 Season 3 Episode 9 Online Free in HD-720p.